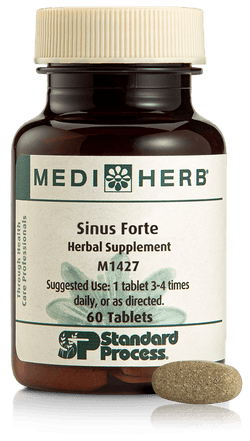 Sinus Forte combines the herbs Eyebright, Golden Rod, Echinacea purpurea root, Golden Seal and Cayenne. These five powerful herbs contribute iridoid glycosides (especially aucubin), saponins, flavonoids, diterpenoid lactones, caffeic acid derivatives (especially cichoric acid), alkylamides, alkaloids (especially hydrastine and berberine), pungent principles (particularly capsaicin), carotenoids and other compounds. These herbs and the compounds within them work together to:
maintain healthy and normal mucus secretion in nasal passages
support healthy response to environmental stresses
support healthy mucous membranes (particularly of the nose and sinus)
assist in maintaining healthy breathing passages to support free and clear breathing
encourage a healthy environment to help maintain normal respiratory flora
maintain normal respiratory tract function
support outer ocular health
Quantity:   60
Servings Per Container:   60
Serving Size:   1 Tablet
Suggested Use:  1 tablet 3 – 4 times daily, or as directed.
‍
*This statement has not been evaluated by the Food and Drug Administration. This product is not intended to diagnose, treat, cure, or prevent any disease.