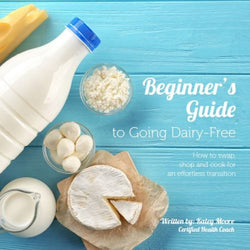 Thinking about going dairy-free? This guide contains all you need to know to make the transition into dairy-free living effortless and totally enjoyable.
We've taken care of all the research, scanning the grocery aisles for the best products, and even recipe-hunting for you to take the guesswork out of changing your diet.
If your food sensitivity results showed a reaction to gluten or wheat, this is a wonderful resource to get you started. Read more below.
Written by our Integrative Nutrition Health Coach, Kaley Moore BA, INHC
The Beginner's Guide to Going Dairy-Free will walk you through how to detect dairy hiding in some of your most common foods, simple swaps you can make for everyday dairy products, our top picks for dairy-free foods and brands at the store including where you can find them, as well as eight deliciously simple recipes to get you going in the right direction.
You don't have to give up your favorite comfort foods, you just have to learn to make, and shop for them, a little differently!
E-book contains 25 pages of easy-to-read information, illustrated in a visually appealing format with beautiful photos.
Recipes featured include:
Easy Homemade Almond Milk
Creamy Spinach Dip
Chipotle "Cheese" Sauce
Coconut Whipped Cream
Sprinkle Parmesan "Cheese"
Vegan Cheese Dip
Dairy-Free Ice Cream aka "Nice Cream"
Dairy-Free Chocolates
Recipes are free from gluten, dairy, soy, grains, refined sugar and are also Vegan and Vegetarian friendly.
Looking for more help adapting a healthier diet? Consider a virtual Health Consultation. Read more here.